The Local Food Team and Local Food Board released its first Annual Report earlier this spring, documenting progress made in 2017 with the Local Food Action Plan!
This year's major success was in establishing an implementation structure for the Plan; staff was hired at both Columbus Public Health and Franklin County Economic Development & Planning, and the Local Food Board was formed.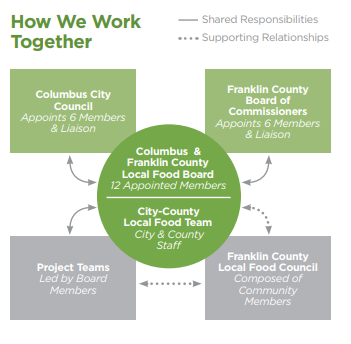 This graphic outlines the different bodies involved in implementation and depicts their relationship to each other.
Franklin County Local Food Council partners closely with the Local Food Team members and attends regular Local Food Board meetings to keep their work integrated with that of the Plan.
In addition, Project Teams were created by the Board to begin implementation of action B3 - making healthy food more available by supporting our local farmers markets - and action C9 - linking local food businesses to tools and resources to help them reach economic success. Franklin County Local Food Council is working alongside the Food Team to support both actions, which are well into their work plans for 2018 already.
Visit the Local Food Action Plan website at columbus.gov/lfap to learn more about the plan, and join the Food Council's monthly meetings to find out about opportunities for involvement!